Gaia at Rochester Cathedral
24th May - 12th June 2022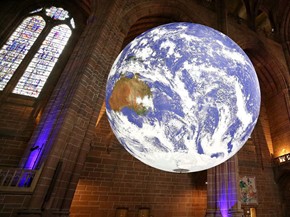 If you loved the Museum of the Moon, you won't want to miss Luke Jerram's Gaia arriving at Rochester Cathedral in May 2022.
Measuring seven metres in diameter, Gaia features 120dpi detailed NASA imagery of the Earth's surface*. The artwork provides the opportunity to see our planet on this scale, floating in three-dimensions.
The installation creates a sense of the Overview Effect, which was first described by author Frank White in 1987. Common features of the experience for astronauts are a feeling of awe for the planet, a profound understanding of the interconnection of all life, and a renewed sense of responsibility for taking care of the environment.
The artwork also acts as a mirror to major events in society. In light of the current COVID-19 pandemic, the artwork may provide the viewer with a new perspective of our place on the planet; a sense that societies of the Earth are all interconnected and that we have a responsibility toward one another. After the lockdown, there has been a renewed respect for nature.
A specially made surround sound composition by BAFTA award winning Composer Dan Jones is played alongside the sculpture. In Greek Mythology Gaia is the personification of the Earth.
Gaia has been created in partnership with the Natural Environment Research Council (NERC), Bluedot and the UK Association for Science and Discovery Centres.
*The imagery for the artwork has been compiled from Visible Earth series, NASA.
This event was originally scheduled for February 2022, but the decision has been made to postpone until May. More information and ticketing details will be confirmed soon. 
Address
Rochester Cathedral
ME1 1SX
Contact