'Unknown Soldier' works by David Tovey
28th January - 8th April 2022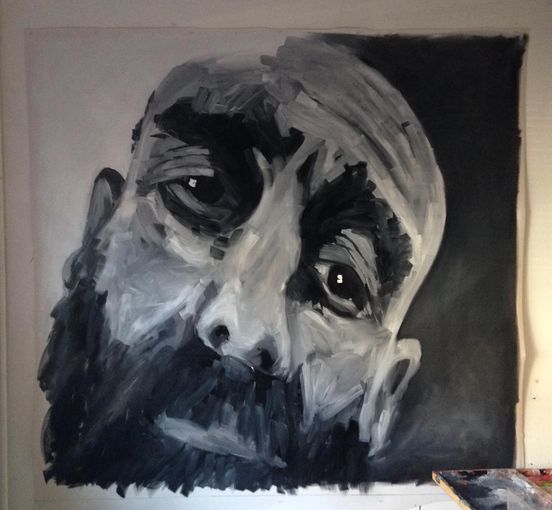 David Tovey is a formerly homeless artist, educator, activist and ex-soldier. Raw, uncompromising, and sometimes brutal the exhibition explores the deep-rooted questions highlighting the struggles that people face when they leave the armed forces and why life falls apart for so many ex-service personnel, leading to mental health problems, homelessness, and for some suicide.
The show will include paintings, photographs, memorabilia, film, installation and performance that document David's journey as well as embracing the wider issues associated with homelessness in all its forms.
At the heart of David's practice is the ability to bring you to the subject in ways both beautiful and hard-hitting in equal measure, to raise awareness of the social justice issues he tackles.
David has exhibited internationally in Montreal and Norway as well as at Tate Modern and Tate Liverpool and is the founder of the UK's first One Festival of Homeless Arts. He speaks regularly at events and teaches art to people experiencing homelessness. His Man on Bench performances at London's Southbank, The Mayfield Depot Manchester and the halls of Tate Exchange have earned him significant acclaim.
David is the Senior Producer at Arts and Homelessness International and is the Patron of The Gem Program, a Big Issue Change Maker 2019, a Core group member of the Museum of Homelessness, a steering group member for What Next? And a trustee at Unlimited. David also supports SSAFA the military welfare charity and Fighting with Pride the LGBT (lesbian, gay, bisexual and transgender) military charity.
David is based in London with strong family connections to Medway. Find out more about him on his website. 
David will be working with Medway Council, partner organisations and the homeless community to a deliver a supporting programme of events both during and beyond this exhibition.
Please note: The Rochester Art Gallery is closed on Sundays and Mondays. 
Preview Evening
Meet David Tovey and view the exhibition first. All welcome. Thursday, 27 January 6.30pm-8.30pm. 
Address
Rochester Art Gallery
ME1 1LX
Contact