Champing - Escape to somewhere truly unique
#WhoKnew you you could camp out in a 13th Century church in Medway?
Champing is the unique concept of camping overnight in historic churches, brought to the world by the Churches Preservation Trust. Travel vloggers Mac and Sarah share their experience of an overnight stay at St James' Church, Colling. 
Like so many people we love to travel, especially in the UK and to some of the wonderful places that are not too far from home. We also love to find quirky or unusual accommodation to stay in.
We've stayed in all sorts, from converted horse lorries to luxury eco glamping pods but nothing quite came close to the most unusual of all, the 800 year old St James' Church in Cooling.
How can you just sleep in an old church, we hear you ask? Well while looking for quirky accommodation we discovered not glamping, not camping but Champing!
Yes that's right, church camping! A concept from The Churches Conservation Trust to help preserve these wonderful historic buildings by enabling happy campers to stay the night.
The set up is pretty basic, some camp beds, folding chairs, battery powered candles and a unique opportunity. All you need to do is bring a sleeping bag, some food, maybe a bottle of wine and a sense of adventure.
There are churches up and down the country that you can stay in but St James' in Cooling really caught our eye on the website.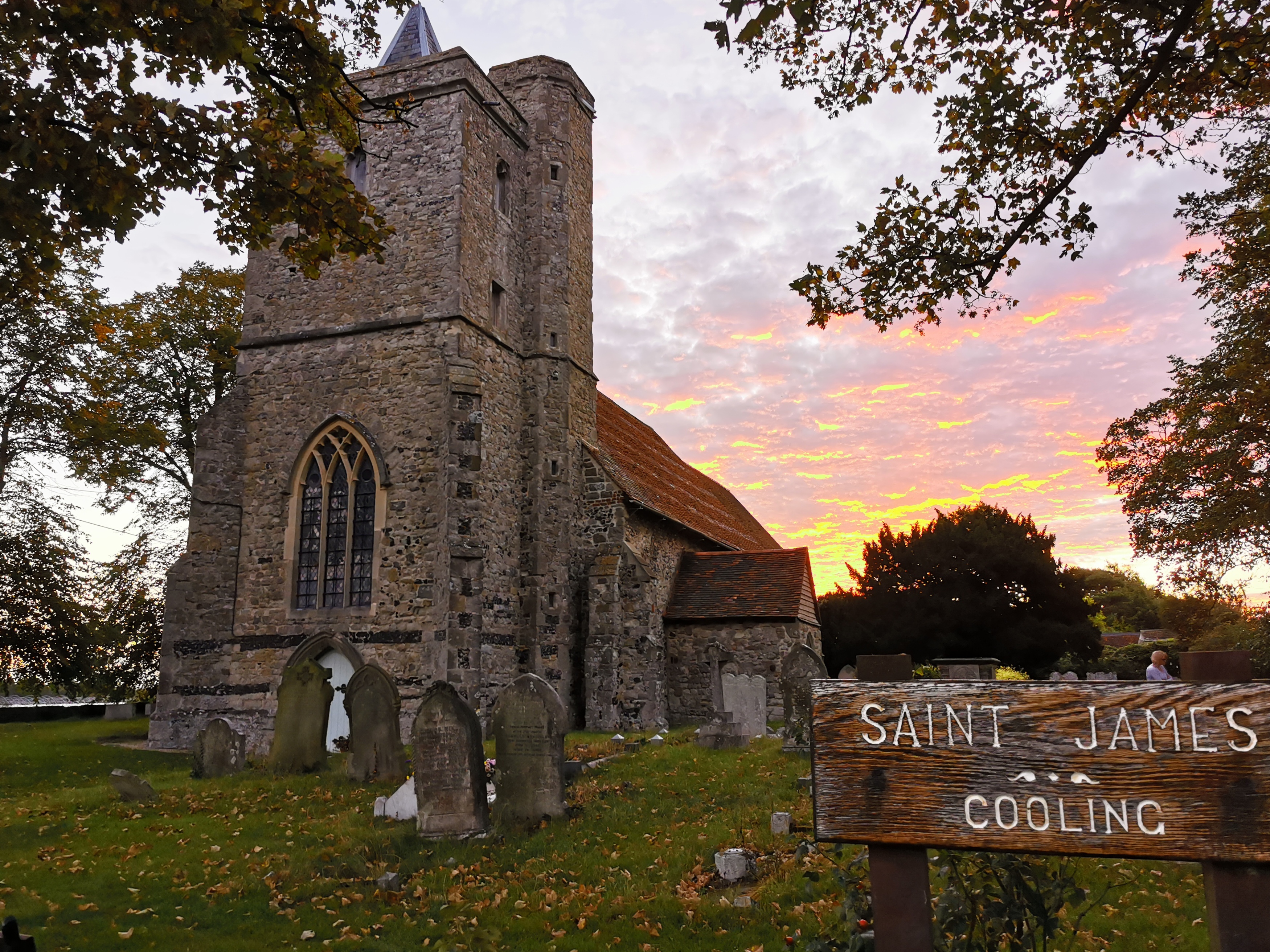 It's an area that we hadn't visited before and the church itself has some really interesting history; it was the childhood church of Charles Dickens and he used it as inspiration for the opening chapter of Great Expectations as well as having family picnics amongst the gravestones!
When we arrived, the key was secured in a lock box accessed with a code. As we opened the ancient, heavy wooden door, the atmosphere of the church just washed over us, it was so peaceful. We took our dog Dozer with us, as Champing is dog friendly. He was very excited to explore all the new smells (luckily the church cat had long since moved out!).
It didn't take us long to get set up and comfortable, but before we settled down for the night. We went for a lovely evening walk with Dozer along a path just behind the church and up the hill for some wonderful views of the surrounding area, the Thames sparkling in the distance. On the way back to the church we found ourselves enjoying pint of cider in the nearby pub, The Horseshoe & Castle which also serves food although we'd brought our own to enjoy in the church.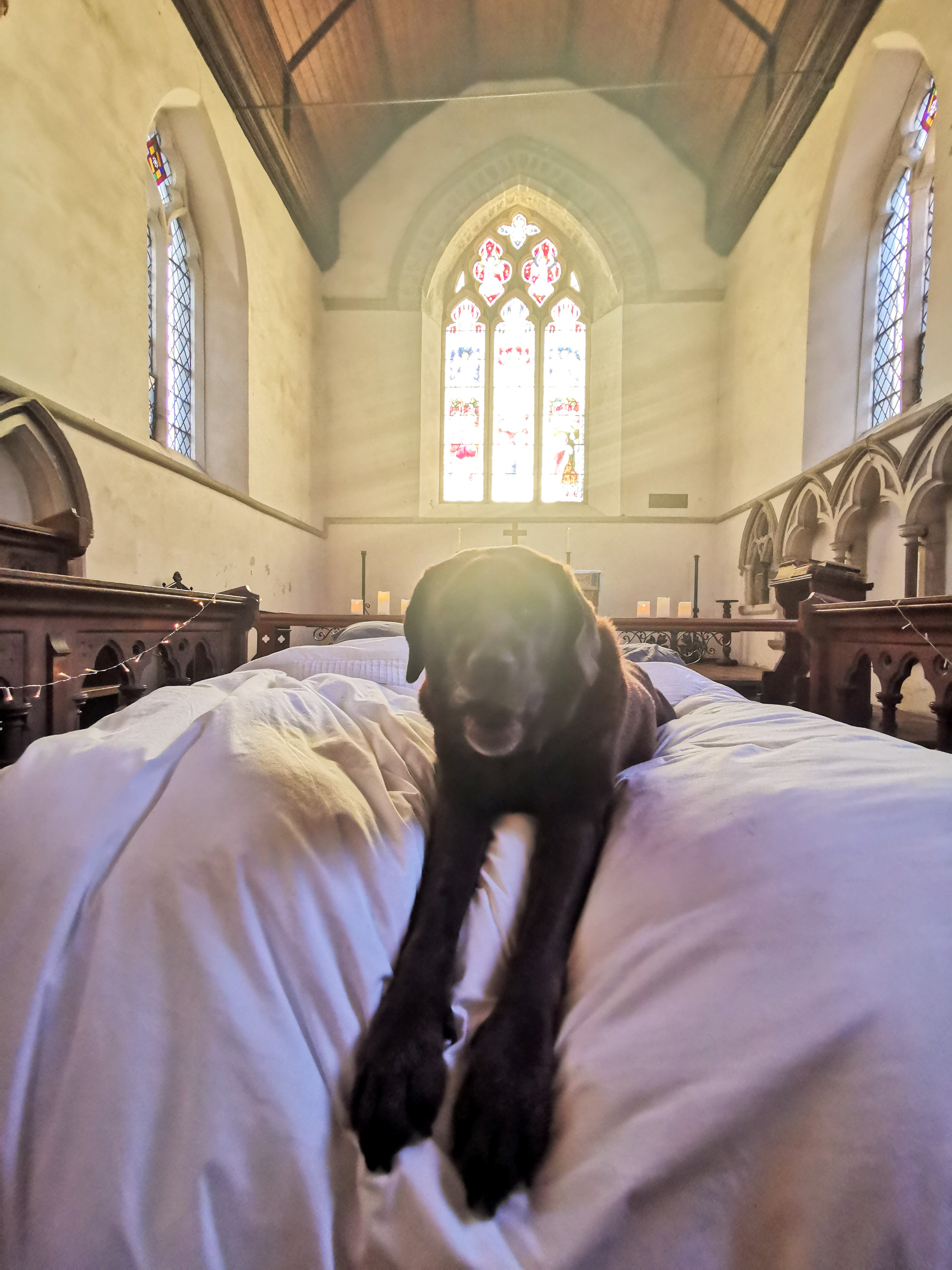 Once back from our walk we settled in for the evening, the battery powered candles flickering, their light dancing on the walls while we opened a bottle of wine and tucked into some cheese, bread, smoked salmon and snacks. With no cooking facilities in the church we made sure to bring something that required no heating up. We'd also downloaded a movie to watch before bed.
Once we were about ready for bed, we needed to venture out into the pitch dark graveyard to fetch some of our sleeping gear from the car, which was an experience, thanks goodness for our head torch as we made our way through the gravestones in the dark!! The evening adventures continued with our room mate, a little bat, but we soon reached an unspoken agreement and he left us in peace while he went out hunting.

Now, it has to be said, there's something slightly odd about getting undressed in a church but we felt it was essential, rather that go to be fully clothed. But once we were in bed, on the camp beds provided, it didn't take long at all to feel cosy and we actually slept OK, waking up to some absolutely stunning light beaming through the colourful stained glass windows.


We only stayed for one night, so after a very relaxing breakfast we packed up our things and said goodbye to the beautiful St James Church.
All in all, it was a very unique and thoroughly enjoyable experience and one that we will definitely repeat when the opportunity arises.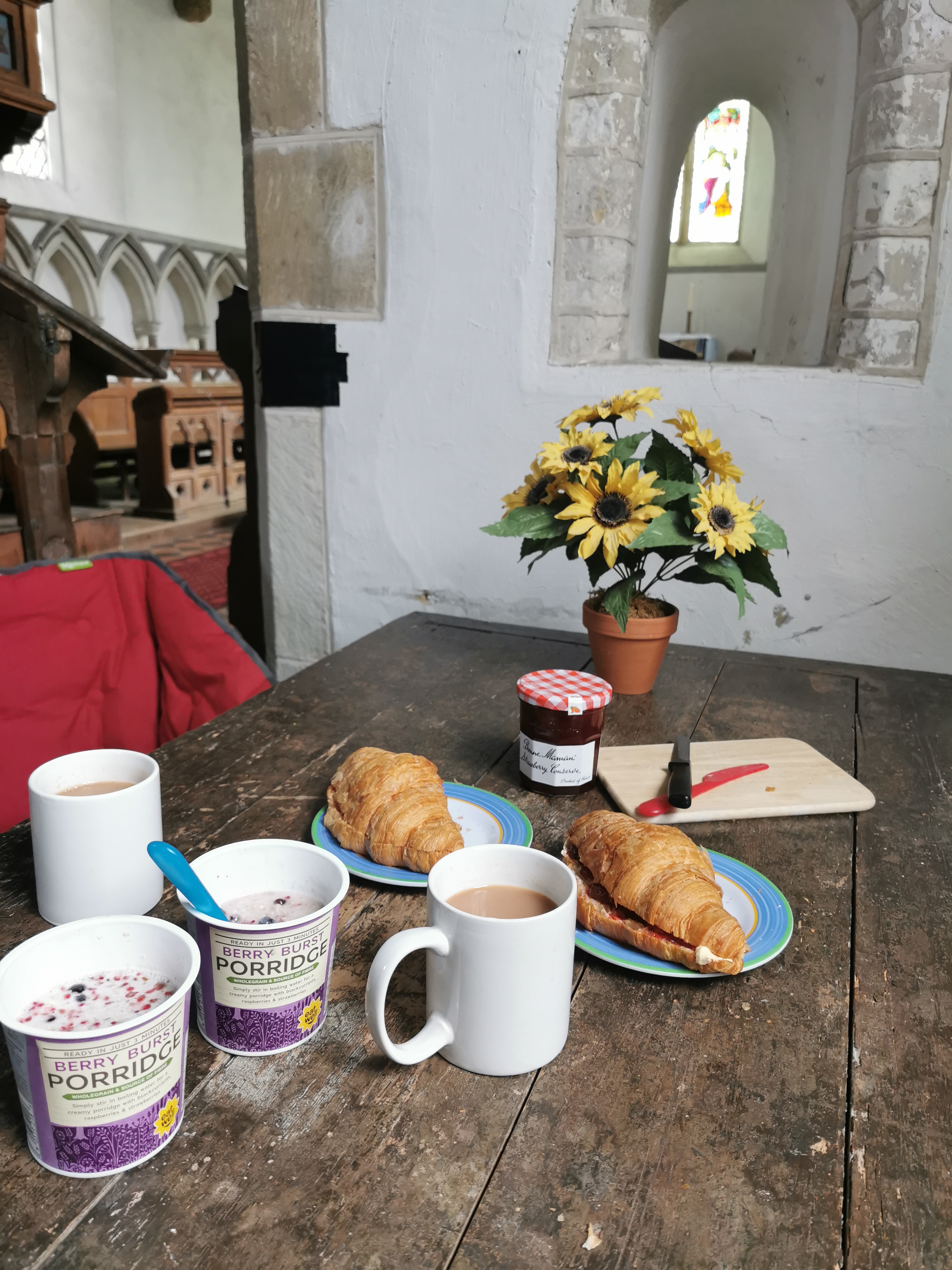 And if you fancy a truly unusual overnight stay, head to champing.co.uk and find your ideal spot, by the way we can definitely recommend St James Church, Cooling. You can also watch the vlog of our stay on our YouTube channel below.